WERT company offers a complete service for radiometric and radiochemical determination of an extensive range of samples. WERT company has several laboratories enabling to proceed samples with activity levels ranging from free-release up to high level activity.
WERT company has improved many proprietary radiochemistry methods for the determination o difficult-to-measure radionuclides needed for the activity declaration in waste streams.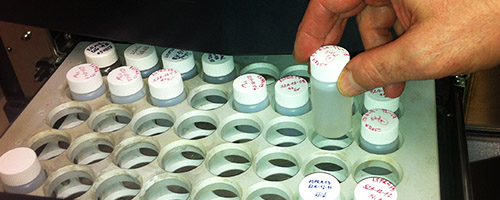 These methods are aimed for the determination of a wide range of α, β and γ emitting radionuclides in solid and liquid matrices including effluents, aerosol filters, wipes, resins, sludges and a wide range of operational waste and waste decommissioning samples (concrete, steel, metal, plastic, tile, soil, fiberglass, textile, linoleum, wood).
WERT company routinly provides the determination of following radionuclides:
Alpha 147Sm, 229Th, 230Th, 233U, 234U, 235U, 236U, 238U, 238Pu, 239,240Pu, 241Am, 242Cm,
243, 244Cm, Total alpha
Beta 3H, 14C, 36Cl, 41Ca 63Ni, 79Se, 90Sr, 93Zr, 99Tc, 107Pd, 147Pm,151Sm, 204Tl, 241Pu, Total beta
X-ray 55Fe, 59Ni, 93Mo, 93mNb, 129I
Gamma Gamma-ray emitting radionuclides (40-2000 keV)